Prev
Next
The Munger Website Book Project
---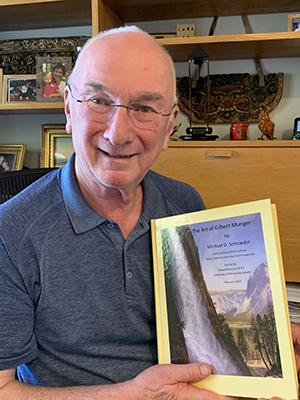 A major consideration of this research work is the long-term availability of the information collected by the website. As long as I am able to provide the maintenance, the site will certainly continue. When I am no longer able to do that the website could easily fall in to disrepair or be shut down. To preserve the information contained there in such a case, in the Spring of 2020 I spent several months turning the content of the website into a hardcover, library quality book. The book, The Art of Gilbert Munger, is a snapshot of the website as of February 2020.
A website is not an archival medium. Computer systems change so that outdated programs can no longer be used. Digital media becomes unreadable. A website can survive online only if there is an organization keeping it going by copying it and restructuring it as the technology changes. Experts agree that archival paper copies are the medium of choice for long-term survival of information. Reference libraries are designed to retain archival paper indefinitely. Providing long-term retention is the role that the book version of the Gilbert Munger website is intended to play.
The book contains 527 pages. Twenty three copies have been printed and are being distributed to major libraries. So far the following libraries have accepted copies:
Amon Carter Museum of American Art, Fort Worth TX
Bancroft Library, University of California Berkeley
British Library, London
California State Library, Sacramento
Courtauld Institute of Art, London
Crocker Art Museum, Sacramento CA
Duluth Public Library, MN
Harvard Fine Arts Library, Cambridge MA
Institut national d'historied e l'art, Paris
Madison Historical Society, CT
Metropolitan Museum of Art, NYC
National Gallery of Art, Washington DC
Nevada Museum of Art, Reno
New York Public Library
Ryerson and Burnham Libraries, Chicago Institute of Art;
Terra Foundation for American Art, Paris
Tweed Museum of Art, University of Minnesota Duluth
US Library of Congress
Utah Museum of Fine Art, Salt Lake City
Adding the title to these institutions' catalogs is in progress but will take a while. The book is starting to show up in WorldCat.org.
For others undertaking such a project, note that none of the apps I have found claiming to convert web pages to .pdf format do a reasonable job. Long .html pages cause massive problems. The way I got around this was tedious but worked: copy an entire web page from a browser into the cut buffer and then paste it into a Microsoft Word document. Even then, many hand corrections are required. In particular, internal links within the website need to be changed to "go to page 'n'" instructions for the book.
---
Prev
Next
© Michael D. Schroeder 21 Oct 2018; Updated 8 Feb 2023.