Prev
Next
A Brief Biography
Rediscovering the Life and Art of Gilbert Munger
---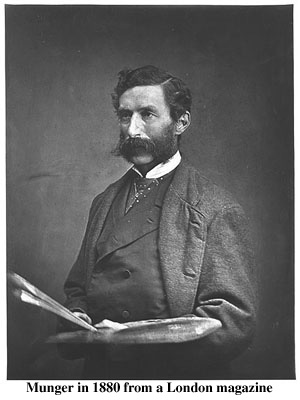 This synopsis of Gilbert Munger's life provides context for the pictures in this catalog. When Munger died he was no longer recognized as a first ranked American painter and appreciation of his talent was not widespread. Yet in his early career in San Francisco he was a top player in the art scene, and in mid career in Europe he attracted much favorable coverage in the press, made a comfortable living selling paintings to collectors and museums, and received many medals. For the more than the 40 years that he was producing pictures he supported himself entirely from his art.
Getting Started
Gilbert Munger was born on April 14, 1837 in Madison, Connecticut. He showed interest and talent in art early in life. His family allowed him to follow this inclination by sending him at age 13 to Washington D.C. where he apprenticed to the engraver William H. Dougal, who worked for various firms and agencies there. Munger worked at this craft for about ten years, producing plates for various U.S. Government reports.
He became good friends with other artists in town including John Mix Stanley and John Ross Key. Through these associations and his own efforts he taught himself to draw and paint. When the Civil War started Munger became employed by the Union Army, working on the defenses of Washington D.C. When the war ended he gave up his military employment and moved to New York City to try a career as a professional artist.
The Western Landscapes
Starting in 1866 Munger maintained a studio in New York City and then also in St. Paul and Duluth, Minnesota, where his brothers had settled. He had paintings in the National Academy of Design exhibition of 1866. Some of his early paintings met with approval in the press. Of his Niagara Falls the Home Journal said in 1869: "The work is one of real promise, showing a good deal of skill and graphic power. It bespeaks for the artist an honorable position among American landscapists, and at once advances him a long stride in this career." But this first phase of his professional career is dominated by the landscape paintings he did out west.
In the summer of 1869 Munger traveled to Utah to become a guest artist with the United States Geological Exploration of the 40th Parallel, headed by the famous, young geologist Clarence King. He worked with the King survey for two seasons: the first mainly in the Uinta and Wasatch Mountains of Utah and the second in the Cascade Mountains of Northern California, Oregon, and Washington. This first western trip ended when Munger went east at the end of 1870. At his own expense he made a second trip west in the summer of 1872, returning east at the end of 1873. A recently uncovered third trip occurred in the summer of 1875. For the survey he "made and finished studies of what I saw, painting the geological formations with careful detail so that a geologist could tell the species of rock." Ten of these studies, covering scenes in Colorado, Idaho, Nevada, Utah, and Wyoming, were reproduced as chromolithographs in King's Systematic Geology, Volume 1 of the survey reports, published by the U.S. Government Printing Office in 1878. Independent of the survey Munger painted in Yosemite, the Sierra Nevada Mountains, coastal California, and the Cascade Mountains in Oregon and Washington.
During the first two western trips Munger made San Francisco his west coast headquarters. He became an important figure in the local art scene, ranked by the press and the art market along with painters like Albert Bierstadt and Thomas Hill. His paintings were regularly reviewed in print and appeared in exhibitions. Munger's western landscapes from this period have a realistic, vigorous, detailed topographical approach and only incidentally contain people or animals. King owned Munger paintings. Later, Munger paintings were used to teach geology to students at Yale University.
In the east after 1870, when not on his trips to the est coast, Munger seems to have made New York City his base, but he continued to spend time in St. Paul and Duluth with his brothers. He had exhibitions in San Francisco, Minneapolis, and on the east coast. He had three paintings in the 1871 National Academy of Design show, and contributed to exhibitions in New Haven and and in Boston. His output included many studio paintings from the western studies.
In 1877 Munger moved to Europe, initially living in London. He continued to produce and sell landscapes of the western U.S., especially Yosemite, based on his studies. These paintings represent the end of the first phase of his career. That some of his best renditions of Yosemite, for example, were made at a studio in London illustrates Munger's talent for producing believable landscapes from his sketches long after the first impressions of the physical surroundings had faded. While in England he also produced new paintings on trips to the English and Scottish countryside. In the fall of 1882 he painted in Venice for several months.
The Barbizon Landscapes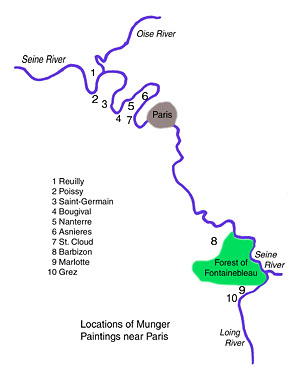 About 1886 Munger moved to Paris and painted country scenes from north and south of the city along the Seine, Oise, and Loing rivers. (The map at the right shows the locations known in 2003. Ten other locations in this area are named in the titles of paintings discovered since then.) In the French paintings his style changed from realistic scenes of dramatic landscapes to, as he later described it, "soft, mellow, and reposeful scenes." The new style was strongly influenced by the Barbizon school, following Corot, but Munger added a recognizable American crispness to the style. He is reported to have traveled in Southern France, Spain, and Germany, but no direct evidence of these trips has been uncovered as of yet.
His Barbizon paintings enjoyed considerable success in the French and English art markets and with the critics. He was recognized with medals from several European governments: a Chevalier of the Legion of Honor in France, a Knight of the Order of Saxe-Ernestine in Germany, a Red Cross with the Ribbon of the Order of St. Andrew in Russia, and a King Leopold Gold Medal with Crown in Belgium. His paintings were bought by the Royal Academy of London, the museums at Colberg, Berlin, Munich, Schwerin, Weimar, and Meininger, and the Luxembourg Art Gallery of Paris.
In 1893 Munger returned to the U.S. He brought back many sketches and paintings, and setup a studio in New York City. He worked diligently to establish himself as a painter to the elite of the City. He was repeatedly taken advantage of by well meaning supporters and then tempted to return to Europe when the scheme failed. Recounting this period to a friend in a letter he wrote: "I must not think of going back (she said). She was one of the 4 hundred, she had never seen such pictures, I must take a studio near the Waldorf, she would bring the 4 hundred and many out of Town Millionaires. I believed all this, followed her directions, and then never saw her again, result, three thousand dollars out of pocket." His European fame did not translate to America and he never managed to re-establish himself as a painter of note. He lost money on bad investments and became discouraged. His works in this period often recapitulated his Barbizon paintings and Venetian scenes from sketches.
An Unfinished Transition
Back in the U.S. Munger, initially living in New York City, continued his tradition of getting out of town to paint. In 1894 he revisited West Virginia where he had wandered prior to 1867. Perhaps driven by financial need Munger branched out. He mentions in a letter to a friend earning $5,000 painting portraits in Cleveland (he was the house guest of friends there in 1895 and 1897), but only two examples of portraits by Munger have been located. In 1900 he spent three months at Cazenovia, New York, with a young artist friend Dwight Williams. These Cazenovia paintings of American scenes are missing the moodiness and introspection of the Barbizon works and exhibit a more modern style. In early 1901 he moved to Washington D.C., still not enjoying success as an artist, but full of plans for succeeding and still working hard at his painting.
Starting in 1900 his letters show health problems starting. When he died in Washington D.C. on 27 January 1903 his brother Roger Munger handled the estate, giving many paintings from the studio to friends and returning to Duluth with about thirty. His passing was not much noted, except in Minnesota. His buddies from the King Expedition helped to cleanup estate matters, and a new friend published a short Memoir in 1904. The paintings that Roger brought back to Duluth eventually seeded the Tweed Museum of Art's collection of Gilbert Munger paintings.
The last painting Gilbert Munger completed was a very large Niagara Falls. Thus, at the end of his career he returned to a subject from the beginning; one of his first major successes had been his Niagara Falls of 1869.
---
Prev
Next
© Michael D. Schroeder 2 May 2007; Updated 2 May 2021