Use landscape orientation on a small screen.
Welcome to https://gilbertmunger.org
---
Prev
Next
The Art of Gilbert Munger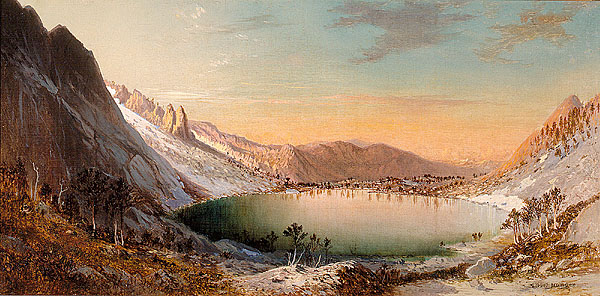 Lake Marian, Humboldt Range, Nevada, 11x22, ca.1870.
---
User Guide
Click on the links in the menu at the left to get to various parts of this website.
The "Document Archive" is 60,000+ words of annotated period documentation.
The "Picture Catalog" is organized by the location depicted.
Within a location the picture entries are ordered by size.
Pictures have ID's, e.g., "#34."
Auctions sorted by "Date+$" includes the prices realized.
Use the "Site Search" box to find pages containing a text.
Use a browser's "Ctrl-F" finder tool to locate words and phrases within a page.
Use "Goto ID#" to jump to a catalog entry.
Use "Prev" and "Next" to cycle through the entire site in a logical sequence.
Click on most images a see a larger version.
---
Prev
Next
© 1999 Michael D. Schroeder; Site updated: 22 Jan 2022.