Prev
Next
Locale: Nevada
#1. Lake Marian, Humboldt Range, Nevada.
11 x 22, oil on canvas, relined. "Gilbert Munger" lower right. This painting was sold by Montrose Galleries, Fredericksburg VA, in October 1992. It closely matches Plate II in
Systematic Geology
(see
#145
), which is based on a Munger sketch. The painting title comes from that plate. The painting appeared in
The Kennedy Quarterly,
June 1966, p.78 and also in an ad in
American Art Review,
Spring 1992, p.74.
IAP
78040003. This
St.Louis Co. (MN) Historical Society Newsletter
article
describes the rediscovery of Munger's "Lake Marian". Image from author's photo.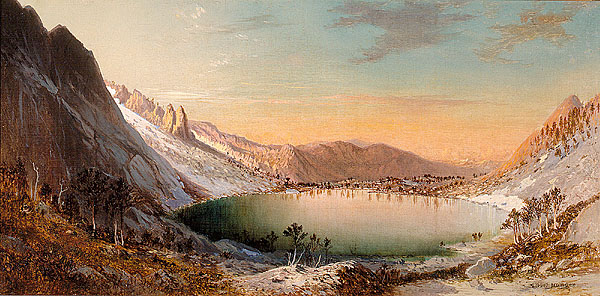 Prev
Next
© Michael D. Schroeder 1 Sep 1999; Updated 19 Mar 2020.