Prev
Next
Locale: Nevada
#181. Lake Marian, Humboldt Mts.
10 x 20, oil on canvas. "Gilbert Munger 1871" lower right; "Lake Marian, Humboldt Mts" reverse. This painting closely matches Plate II in
Systematic Geology
(see
#145
). The frame shows a brass plaque with "Lake Marian, Humboldt Mts, Gilbert Munger." An envelope attached to the back contain the remnants of a paper label with "1871 No. 27." The label likely comes from the third annual exhibition of the Yale School of Fine Art in 1871, where the painting was shown. This is the only Munger "Lake Marian" painting that has come down to us still associated with the correct title. From a ca 1975 auction by the James J. Hill Reference Library to dealer Harlan Stockton of Wayzata MN, to a private collection in about 1975. That owner's estate sold the painting at the Toomey & Co Auctioneers, Oak Park IL, 8 December 2019 sale #121 as lot 72 for $7,500 + 25%. This
St.Louis Co. (MN) Historical Society Newsletter
article
describes the rediscovery of Munger's "Lake Marian". Image from owner's photo.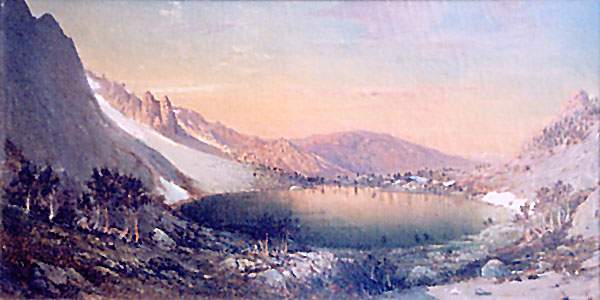 Prev
Next
© Michael D. Schroeder 2 Apr 2000; Updated 1 May 2020.