Prev
Next
Locale: Nevada
#178. Lake Marian, Humboldt Range, Nevada.
26 x 44, oil on canvas. "Gilbert Munger 1871" lower right. This painting closely matches Plate II in
Systematic Geology
(see
#145
). The canvas bears the stamp: "Prepared by, P. DeChaux & Co, Artists Colormen, New York." This and the date suggest the painting is an 1871 New York City studio product, based on sketches done out west in 1869-70. Being exhibition sized, this may be the Lake Marian painting owned and exhibited by King in 1871 at the National Academy of Design in New York. From an antiques store in New Pittsburgh OH to a private collection in 1961. Sold to North Point Gallery, San Francisco, in 1999, who in turn sold it to the NYC collector Daniel A. Pollack. Sold at the 19 Jan 2023 Christies New York sale of Pollack's estate art as lot 214 for $24,000 + 26%.
QFD
Pl.13.
Tweed 2003 Exhibition
n.23. This
St.Louis Co. (MN) Historical Society Newsletter
article
describes the rediscovery of Munger's "Lake Marian". Image from North Point Gallery transparency.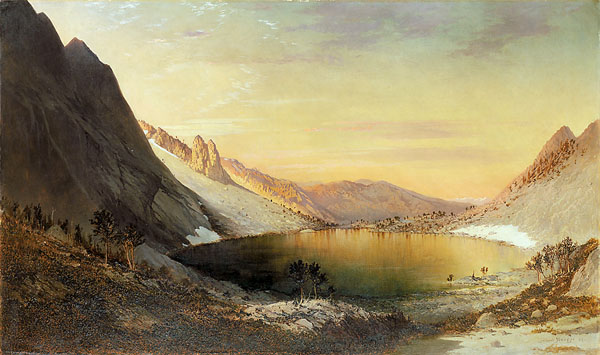 Prev
Next
© Michael D. Schroeder 5 Dec 1999; Updated 20 Jan 2023.