Prev
Next
Locale: Scotland
#179. Herring Fleet.
7.5 x 11, etching on paper. "Gilbert Munger 1879" etched lower left in image; "Herring Fleet" lower center in pencil below image in one example, "Gilbert Munger sc" another; "Gilbert Munger" signed in pencil lower right below image; paper size is 10 x 14. William Foulger of the Stornoway Historical Society confirms that this etching depicts the herring fleet at Stornoway, Scotland. Munger painted there is 1878 and exhibited a painting called
Herring Fleet
in 1879 at Newcastle-on-Tyne. Eight examples have been found.
Bought at a flea market in Chicopee MA in Jan 2000. The seller said it was from newscaster Lowell Thomas' estate, whose great grandfather had got it from Munger. Fine Art Society, London, label on the back.
Purchased in May 2002 from a home on Nantucket Island MA. Gift to the Madison (CT) Historical Society Sep 2022.
Offered at an auction of items from the studio of the artist Solon Borglum; then sold on EBay in Aug 2004. M. Knoedler & Co. label from 556 5th Ave, where it was framed: "P 3645", "F 58055", and title/artist.
Reportedly bought at a Newburyport MA flea market about 25 years ago.
Sold by H. R. Mowbray & Co Ltd of Oxford UK in the 1920s and has passed by descent to the UK owner.
Found in a central CT attic. Sold for $200 at New Egg Auction's Plantsville CT sale of 17 Sep 2022, lot 111.
Been in a Pittsburgh PA family for "at least 75 years."
Rescued from the trash by a New Jersey collector between 1995 and 2005.
An lot offered at a
1925
Philadelphia auction is likely an example of this etching.
QFD
Pl.47.
Tweed 2003 Exhibition
n.49. Image from author's transparency.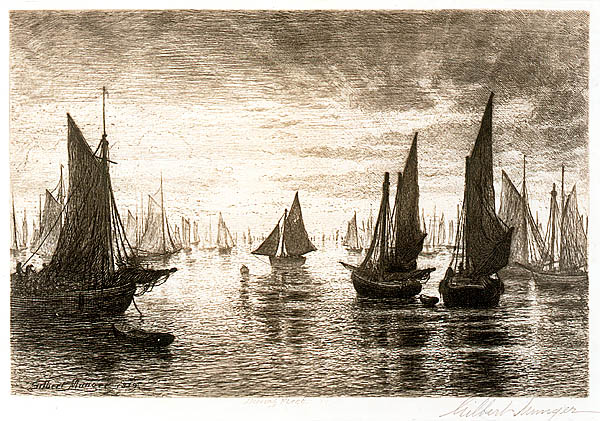 Prev
Next
© Michael D. Schroeder 14 Feb 2000; Updated 8 Nov 2022.