Prev
Next
Locale: Scotland
#70. Young Fisherman and Friend.
12 x 20, oil on canvas, relined by current owner. "Gilbert Munger" lower left (partially removed). Tom Prentice, Secretary of the Scottish Mountaineering Club, writes about this picture:
This picture of the boys fishing doesn't really have enough distinguishing features for me to be able to specifically locate it. The boats on the loch look like yachts (or perhaps small fishing boats) rather than 'ships', and there appears to be settlement smoke in the distance. The land on the opposite side of the loch has been partly cleared of trees for farming and the whole ambiance is of a 'populated and farmed' landscape - the ground round the boys is well worn by people, and there is a building on the other side. So if this is Scotland I don't think it is the much 'wilder' rugged heather landscape of the North and West Highlands -i.e. Glen Shiel, Glen Coe, Skye etc.

Bearing in mind the connection with Milais and Dunkeld (north of Perth), I would guess this could be somewhere in the Southern or Central Highlands, which are accessible easily from Perth and Dunkeld, as the glens and lochs all run 'east to west' or vice versa.  One of these glens has Callander (see picture #46).  It's certainly a very 'Southern Highlands' sort of scene and somewhere Millais might have taken him.
The picture was bought in at the Leslie Hindman Auctioneers, Chicago IL, sale of 4 December 1989. Sold for $1,500 + 10% at Dunning's, Chicago IL,
Spring Fine Art
auction of 18 March 1990, lot 85, to a private collection in Illinois. Image from owner's photo.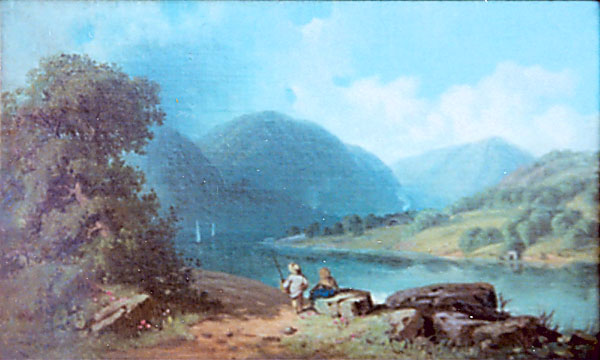 Prev
Next
© Michael D. Schroeder 1 Sep 1999; Updated 28 Feb 2021.