Prev
Next
Locale: New York - Cazenovia Area
#69. Cazenovia Hay Field.
17 x 25.5, oil on canvas, relined. "Gilbert Munger" lower left. Munger painted in this area of upper New York State with his artist friend Dwight Williams of Cazenovia in the fall of 1900. At Kerwin Gallery, San Mateo CA, in 1987. Sold for $3,250 + 10% at Louisiana Art Auction, Baton Rouge, sale of 18 November 1989, lot 76, to Munger collector Robert Orcutt of Guilford CT. Gift of the family in memory of Robert S. Orcutt to the Tweed Museum of Art, Univ. of Minnesota Duluth, in 1996.
QFD
Pl.67.
Tweed 2003 Exhibition
n.64. Image from author's transparency.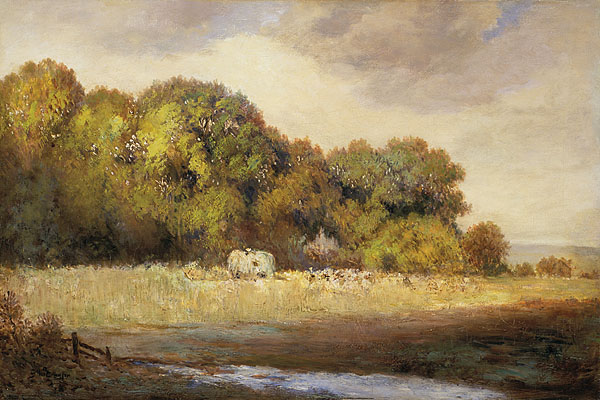 Prev
Next
© Michael D. Schroeder 1 Sep 1999.