Prev
Next
Locale: Nevada
#2. Lake Marian, Humboldt Range, Nevada.
17 x 30.5, oil on canvas. "Gilbert Munger" lower right; "Gilbert Munger, Donna Lake, 1872" reverse. This painting also matches Plate II of
Systematic Geology
(see
#145
), which is where the title comes from. The "Donna Lake" inscription on the back appears to be an error, perhaps applied later. From John Letteau, Duluth MN, to his daughter Florence Letteau (Mrs. Alfred Engels) of Duluth, who gifted it in 1952 to the St. Louis Co. (MN) Historical Society. Restored in 1994 by the Upper Midwest Conservation Association in Minneapolis MN.
Tweed 2003 Exhibition
n.24. See the related
article
in
St. Louis Co. Historical Society Newsletter,
Fall 1994. Image from St. Louis Co. Historical Society slide.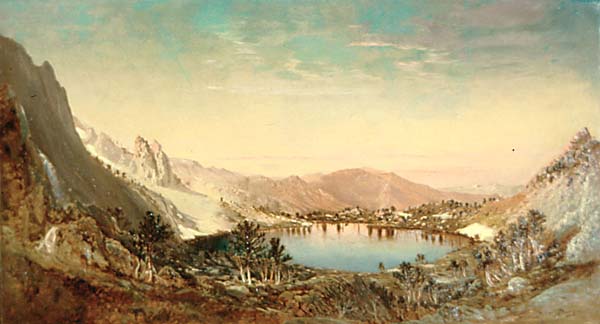 Prev
Next
© Michael D. Schroeder 1 Sep 1999; Updated 19 Mar 2020.