Prev
Next
Locale: Nevada
#302. Humboldt Mountains Afternoon.
12.5 x 20, oil on canvas. Unsigned. "Fort Halleck - Aug 5 1881" lower right; the title, "127" & a circular stamp verso. This painting shows the view looking northeast from the site of Fort Halleck Nevada to Secret Pass, the draw right of center that divides the Humboldt Mountains (now called the Ruby Mountains) on the right and the East Humboldt Mountains on the left. The highest peak is probably Humboldt Peak, Thanks to Austin from Nevada Expeditions for this information.
The painting was reported from a home in Flushing NY in 2015. It had been in the family for several decades. In 2019 it was sold to a collector and conserved by Chelsea Restoration Associates, New York. Although unsigned, it was said to be by Gilbert Munger. This made some sense, as he produced several other Humboldt Mountains paintings. The 1881 date was somewhat problematic, though, as Munger was in London at that point. But he did make paintings at that time from his western sketch books.

New information makes it clear to the author and Prof. Gray Sweeney that this painting is not by Munger, but is an oil sketch by the Hudson River School painter Jervis McEntee. The circular stamp on the back is now known to be from the 1892 McEntee estate sale March 29 & 30 in New York by Ortgies & Co. Sweeney points out that the full month-day-year date as found on the painting is characteristic of McEntee sketches of this period. It is never found on Munger's paintings after 1863. Finally, a 13 September 1881 entry in McEntee's diary says that he spent July and August of 1881 visiting his sister at Fort Halleck Nevada and making sketches. And on 21 July 1881 he wrote:
We are in the valley of the Humboldt ... 6,000 feet above the sea and a range of the Humboldt mountains rises just in the rear of the fort to a height of 5,000 feet ... I paint nearly every day and to my surprise I have some good sky effects since I have been here.
The similarity in style and depiction to another McEntee painting shown above to the right is striking:
Near Fort Halleck
, signed & dated 6 July 1881, lower right, estate stamped. Click on it to see a larger version. Image of #302 below is from Chelsea Restoration Associates.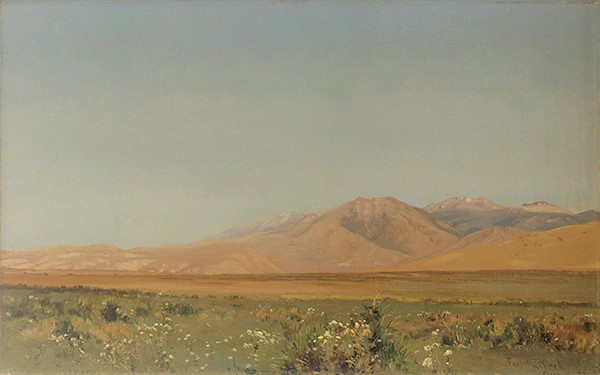 Prev
Next
© Michael D. Schroeder 28 Oct 2018; Updated 31 Oct 2019.