Prev
Next
Locale: France
#301. (Sunr)ise at Auvers.
8.5 x 14.5, Oil on panel. Gilbert Munger" lower left. There is a printed label on the back reading "Cooling Galleries, established 1797, 92 New Bond Street, London W.1." There is also a paper label on the back in Munger's hand: a torn corner then "ise at Auvers - Gilbert Munger." Auvers-sur-Oise is a village about 20 miles north of Paris on the north bank of the L'Oise River, just above where it joins the Seine. It has long been a place where famous painters lived and worked. The painting comes from a private family home in Barnes South London and has been in the family for over 30 years. Sold by Bushy Auctions, Bushy UK, at their 18 October 2018 sale as lot 115 for £650 + 19.2%. Then sold by Freeman's Auctioneers & Appraisers Philadelphia PA auction of 17 July 2019 as lot 240 for $1,100 + 20%. Freeman's misread the handwritten label and listed the painting as "Sunrise at Anvers." There is no town in France named Anvers. Image provided by Bushey Auctions.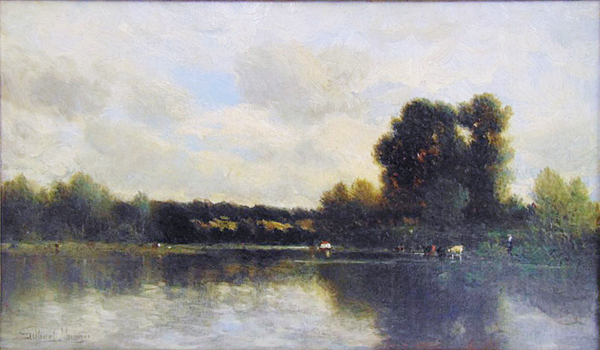 Prev
Next
© Michael D. Schroeder 13 Oct 2018; Updated 17 Jul 2019.