Prev
Next
Locale: France
#300. Barbizon Scene.
14 x 17.5, oil on board. "Gilbert Munger" faintly at the lower left. Sold at Hill Auction Gallery Sunrise FL auction as lot 0219A on 26 September 2018 for $300 + 28%. The catalog entry titles the painting
American River Scene
. But the similarity with other paintings of France done by Munger in the Barbizon style tells us that it belongs in that category. The lines on the surface are reported to be scratches, not cracks in the panel. Subsequently available from Hans Michaels Fine Art, Minneapolis MN, cleaned with a restored frame. Sold at Luther Auctions St. Paul MN auction of 27 May 2019 as lot 0163, for $1,300 + 20%.
#299
depicts the same scene. The image is from the Hill Auction Gallery web page.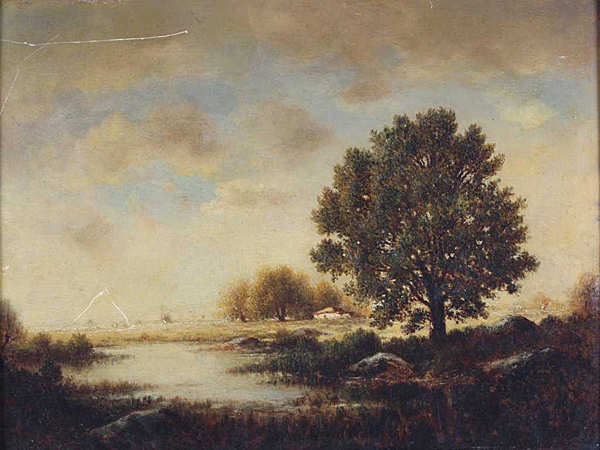 Prev
Next
© Michael D. Schroeder 5 Sep 2018; Updated 16 May 2019.