Prev
Next
Locale: France
#128. The Seine at St. Cloud.
8.5 x 14.5, oil on panel. Signed. Sold for £350 at Christie's London auction of 22 October 1976, lot 53. Not illustrated in the catalog or Christie's files, but the catalog states: "Signed and title inscribed on an old label on the reverse." Dimensions are from the Christie's catalog.
In June of 2021 a German collector reported his Munger painting "The Seine at St. Cloud" to this website. It is oil on board, signature lower left, with a label on the back in Munger's hand stating: "No 9. The Seine at St-Cloud Gilbert Munger." The collector gives the size as 23 x 37 cm, which is 9 x 14.5 inches. These are all close enough matches to the Christie's catalog description that they are very likely to be the same painting. The current owner bought the painting in 2020 from a collector in Bielefeld who had bought it in 2015 at an antiques market in Hanover. The painting was conserved by Stephan Kokerbeck in Bielefeld in 2016.
Image from 2021 owner's email.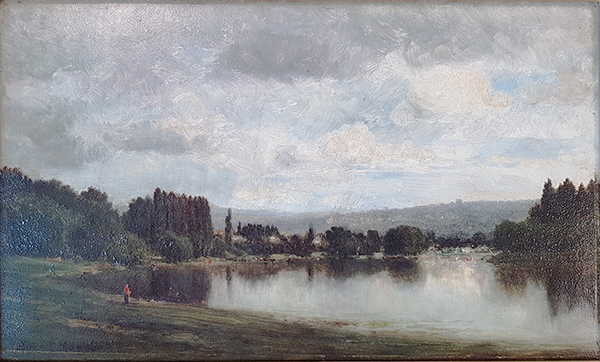 Prev
Next
© Michael D. Schroeder 1 Sep 1999; Updated 30 Jun 2021.