Prev
Next
Locale: Venice
#118. Entrance to the Grand Canal.
22 x 32, oil. "Gilbert Munger" lower left. The painting has a medallion on the back showing "O'Brien - Chicago - 57818." Sold for $3,000 at Sotheby's Los Angeles auction of 12 March 1979, lot 160, for the benefit of the San Diego, CA, Museum of Art. The painting was incorrectly titled
Venice at Sunrise
in that catalog, as the painting shows the sun low in the west. Then from Dassin Gallery in CA in 1981 via a decorator to the collection of Alleyne Mitchell; sold at her estate auction run by Simpson Galleries of Houston TX on 22 May 2005, lot 201 for $10,000 + 29%. Subsequently offered by The Greenwich Gallery, CT. Image from executor's email.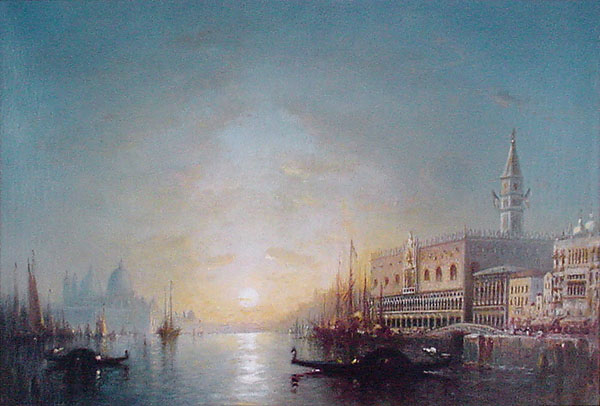 Prev
Next
© Michael D. Schroeder 1 Sep 1999; Updated 22 May 2005.