Prev
Next
Locale: Venice
#119. Venice at Sunset.
22 x 32, oil on canvas. "Gilbert Munger" lower left. Munger painted many scenes of Venice on his three-month visit there in the fall of 1882. In September he wrote from there to a friend in St. Paul MN: "I have finished fifty pictures, and hope to return (to London) with sixty." Later in life he remarked that he continued to paint Venice scenes from his sketches for recreation. Sold for the benefit of the Dan Diego, CA, Museum of Art at Sotheby's Los Angeles auction of 12 March 1979, lot 161, for $3,600. This painting sold for FRF 22,000 ($3,484) at the Ader Picard, Paris, auction of 18 October 1989, lot 107 as
Venise, trois-mats sur le grand canal.
It sold at the Showplace Antiques + Design Center, New York City, auction of 3 March 2019 as lot 99 for $4,250 + 20%. Offered at Rago Auction, Lambertville NJ, American + European Art Sale on 8 December 2021, lot 125, est $7,000-9,000, did not sell, buy now price $8,750. Image from Showplace Auction + Design Center auction website.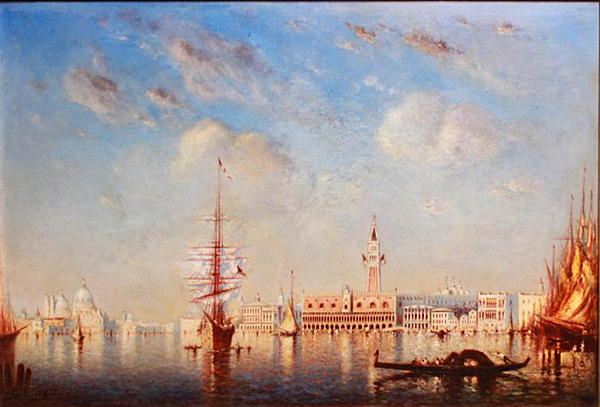 Prev
Next
© Michael D. Schroeder 1 Sep 1999; Updated 10 Dec 2021.