Prev
Next
Locale: New York - Falls and Rivers
#22. Niagara Falls showing the Canadian and American Views 1903.
72 x 120, oil on canvas. Not signed. Munger is reported to have been finishing up a large "Niagara" in his Washington DC studio at his death and J. Gray Sweeney says this is it. The painting hung in Henrici's Restaurant in Chicago from about 1910 until 1960. It was sold at the 18 October 1964 Hanzel Galleries Chicago public auction of the Henrici collection, as lot 33. In a private collection since 1980, the painting was acquired by the Tweed Museum of Art, University of Minnesota Duluth in 2006 using funds donated by Michael and Leslie Schroeder, Microsoft Corporation, Charles Matsch, Roger Carter, Dan and Susan Shogren, and the Alice Tweed Tuohy Foundation Purchase Fund. See
Great Lakes Marine Painting of the Nineteenth Century
by Sweeney, The Muskegon Museum of Art, MI, 1983. Pl.16, p.32.
QFD
Pl.74.
IAP
89480006.
Tweed 2003 Exhibition
n.73. Image file provided by the Tweed Museum.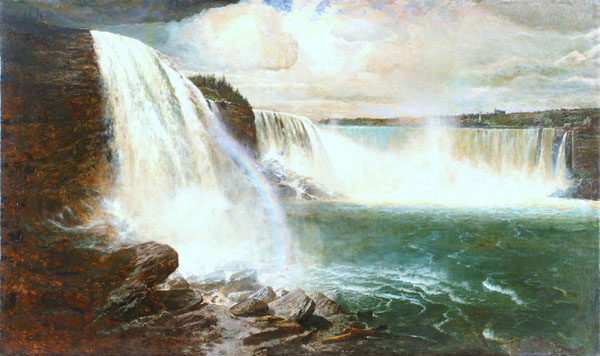 Prev
Next
© Michael D. Schroeder 1 Sep 1999; Updated 14 Dec 2018.