Prev
Next
Locale: France
#222. Near Bourron.
13.5 x 17.5, oil on panel. "Gilbert Munger" lower left. The title is on a label on the back. The Hanover Gallery in London listed a painting with this title at their 1889-90 Winter Exhibition. Also affixed is a label for "J. P. Ballard, Reading Fine Art Gallery" in Reading UK. Sold in a charity auction from an estate in Byshops Lydeard UK to a local collector, who then sold it at the 3 March 2004 auction of Bearnes Auctioneers, Exeter Devon UK, lot 423, for £400 + 15%. (Thanks to Daniel Goddard of Bearnes for this information.) Sold at the 29 October 2006
Fall New Hampshire Weekend
auction of Northeast Auctions, Portsmouth NH, lot 1183, for $1,600 + 16%. The village of Bourron was located about 15 km SE from the village of Barbizon in France, an area where Munger painted extensively. Bourron has now merged with the neighboring settlement and is called the "the Bourron-Marlotte commune." Image from Bearnes website.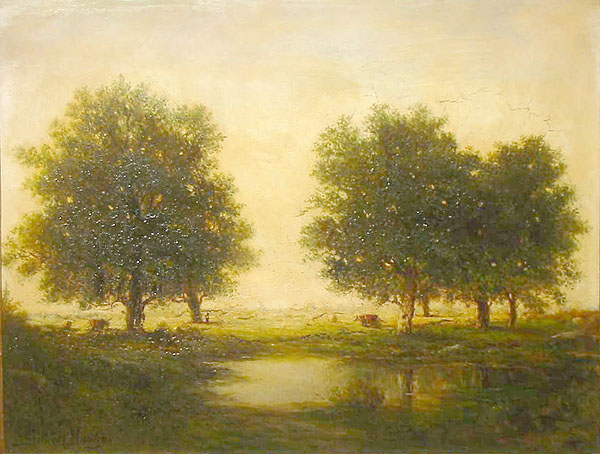 Prev
Next
© Michael D. Schroeder 19 Mar 2004; Updated 2 Nov 2021.