Prev
Next
Locale: California - Ocean
#63. Glimpse of the Pacific.
24 x 42, oil on canvas. "Gilbert Munger 1870" lower left; "Glimpse of the Pacific, Gilbert Munger" reverse in Munger's hand.. Similar to painting
#105
. Shows Ocean Beach just south of the Cliff House in San Francisco. This painting was reviewed in
Alta California
on 5 June 1870 and also mentioned in many other articles that year. (Search the
Document Archive
for the title.) Sold for $17,000 + 10% at F.O. Bailey Antiquarians, Portland ME, auction of 3 June 1994 to Peter Clarke of Newburyport MA. From Montgomery Gallery, San Francisco, in 1999 to a private collection. Via North Point Gallery in Berkeley CA in 2018 to California collector William B. Hurlbut.
QFD
Pl.22.
Tweed 2003 Exhibition
n.16. See
Vose Art Notes 4,
Winter 1995, Vose Galleries, Boston, p.32; and "Luminist Paintings in California," by Alfred Harrison, in
The Magazine Antiques, CLX,
5, (November 2001), p.670-679. Image from Montgomery Gallery transparency.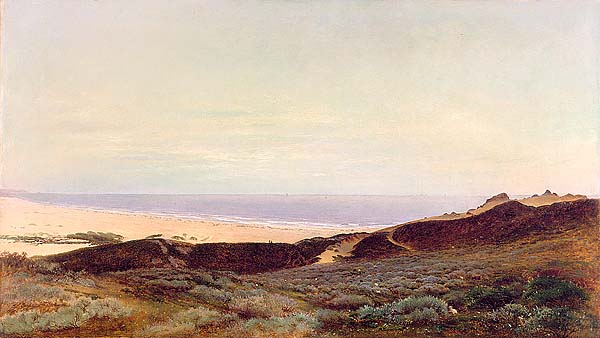 Prev
Next
© Michael D. Schroeder 1 Sep 1999; Updated 28 Apr 2020.