On a small screen try landscape orien­tation.

Note that you have arrived at the best URL for this site: https://gilbertmunger.org
---
Prev
Next
The Art of Gilbert Munger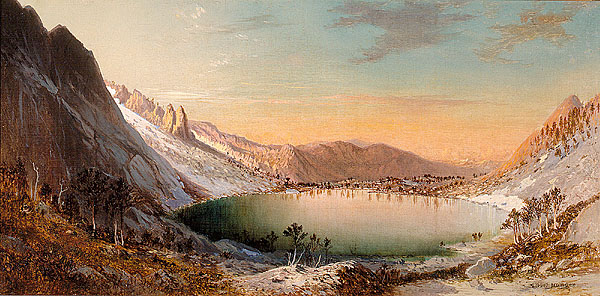 Lake Marian, Humboldt Range, Nevada, 11x22, ca.1870.
---
This website presents a catalog of all the pictures by the American landscape painter Gilbert Munger [1837-1903] that are currently accounted for. It also provides extensive period documentation and auction records.
User Guide

Click on the links in the menu at the left to get to various parts of this website.
The "Document Archive" is 60,000+ words of annotated period documentation.
The "Picture Catalog" is organized by the location depicted. Pictures have unique ID's, e.g., "#34."
Auctions sorted by "Date+$" includes the prices realized.
Use the "Search" box at the bottom of the blue menu to find pages containing a text.
Use a browser's "Ctrl-F" finder tool to locate words and phrases within a page.
Use "Goto ID#" to jump to a catalog entry.
The "Prev" and "Next" on each page within the catalog cycle through the entire site in a logical sequence.
Click on a image in an picture entry to see a larger version.

Home Next
© 1999 Michael D. Schroeder; Site updated: 1 April 2021.