Prev
Next
Locale: France
#131. A River Landscape near Reuil.
12 x 18, oil on panel. "Gilbert Munger" lower left and on a frame plate. The title and Munger's signature appear on a paper label on the back in his handwriting. In April 1883 the Paris edition of the
New York Post
wrote: "In addition to the ordinary landscapes Munger is very fond of river pieces, and he has taken pictures of the Seine twenty times between Reuil and Bougival, … ." Sold for $1,050 + 10% at Christie's New York auction of 26 May 1977, lot 52. The Christie's auction catalog used the same painting title. Then sold by Kenneth Lux - Fine Paintings, 1021 Madison Avenue, New York City, on 19 December 1977 to Mr. Joachim Christian Koch of New York City, a German Counsellor, for $2,500. Sold by his family at the Auktionshaus Ruetten, Munich Germany, Internet auction 470 on 11 September 2021 as lot 85, for €490, to a German collector. Thanks to MutualArt.com for discovering this auction item. Image from Auktionshaus Ruetten website.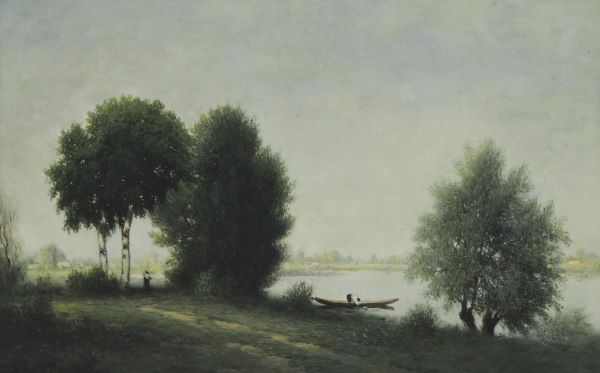 Prev
Next
© Michael D. Schroeder 1 Sep 1999; Updated 2 Sep 2021.