Prev
Next
Locale: Utah - Wasatch Mountains
#142. Wahsatch Mountains, Utah.
14 x 20, oil on canvas. "Gilbert Munger" lower left; "Wahsatch Mts, Gilbert Munger" reverse. This picture shows the present day Alta ski area in Little Cottonwood Canyon near Salt Lake City. The leftmost peak is Sugarloaf and the right-center peak is Mt. Baldy. The high ridge on the closest mountain leads at its right end to the "High Rustler" ski run swooping down to the right.
The Emma mine is very close to Alta and Munger presented "studies drawn in the neighborhood of the famous Emma mine" in December of 1873 in San Francisco. David Ericson of David Ericson Fine Arts in Salt Lake City points out that it would be almost impossible to get to this place in winter in the 1870s. It is 12 miles up a canyon with 5,000 feet of gain. There would be 6 to 10 feet of snow on the ground. The trip would take a week on snowshoes. His suggestion is that either the snow as added by the artist later, or that he was in that area in October when an early season snow storm occurred, but only put a foot or so of snow on the ground, so Munger was able to get out. This picture was at Kennedy Galleries,New York City, in 1973. Its present whereabouts is unknown. Image from Kennedy Galleries photo.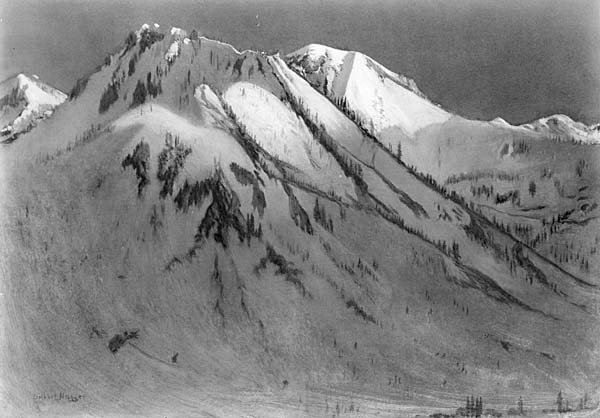 Prev
Next
© Michael D. Schroeder 1 Sep 1999; Updated 15 Sep 2000.