Prev
Next
Locale: Wyoming
#143. Natural Column - Washakie Bad-Lands - Wyoming.
6 x 8.5, chromolithograph. Title on plate. This chromolithograph is the Frontispiece in Clarence King's
Systematic Geology
, published in 1878 as part of the record of the
United States Geological Exploration of the 40th Parallel
, 1867 - 1872. The plate is one of ten based on sketches by Munger, who was a guest artist of the survey. See
this site page
for more complete information.
The Washakie Badlands are part of the Washakie Basin in Wyoming, which is located just north of the Colorado border in southeast Sweetwater County. It is about 30 miles south of where the railroad crossed the Green River at Green River City and, thus, is accessible from the railroad.
A smaller version of this image appears as a chromolithograph titled "Naturliche Saule in Wyoming (Nordamerika)" in
Allgemeine Geologie
by Melchior Neumayr (1845 - 1890), published as volumes 1 and 2 of
Erdgeschichte
in Leipzig, Germany, in 1886.
QFD
Pl.38.
Tweed 2003 Exhibition
n.34. In the collection of the Great Plains Art Museum, Univ. of Nebraska, Lincoln. Image is a direct scan of the
Systematic Geology
plate.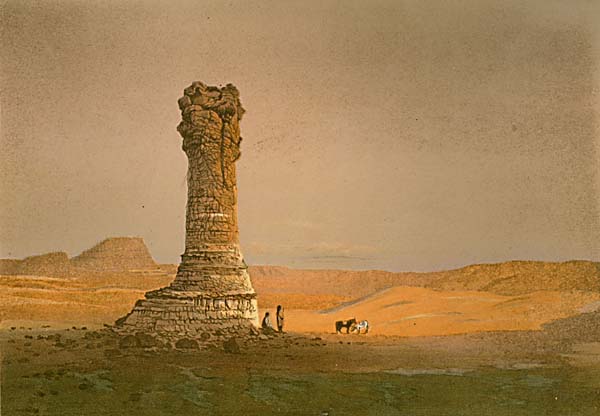 Prev
Next
© Michael D. Schroeder 1 Sep 1999; Updated 20 May 2019.