Prev
Next
Locale: Utah - Wasatch Mountains
#144. Summits - Wahsatch Range - Utah.
6 x 8.5, chromolithograph. Title on plate.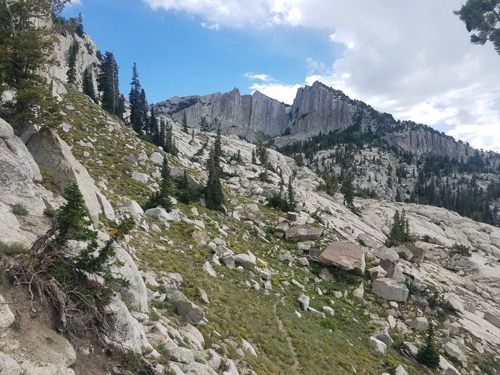 This chromolithograph is Plate II in Clarence King's
Systematic Geology
, published in 1878 as part of the record of the
United States Geological Exploration of the 40th Parallel
, 1867-1872. The plate is one of ten based on sketches by Munger, who was a guest artist of the survey. See
this site page
for more complete information.
An experienced hiker from Salt Lake City says that this view is looking north up into the Lone Peak Cirque from the Jacob's Ladder trail. In the photo at the right, the summit of Lone Peak is the high pinnacle at the center. The hike to the top is a very challenging, with 5,000 feet of gain and serious exposure. Munger spent a time painting with the survey in this area in 1869.
A survey photograph by Timothy O'Sullivan of this scene shows a single pack animal and person in the snow.
QFD
Pl.9.
Tweed 2003 Exhibition
n.35. Image is a direct scan of the
Systematic Geology
plate.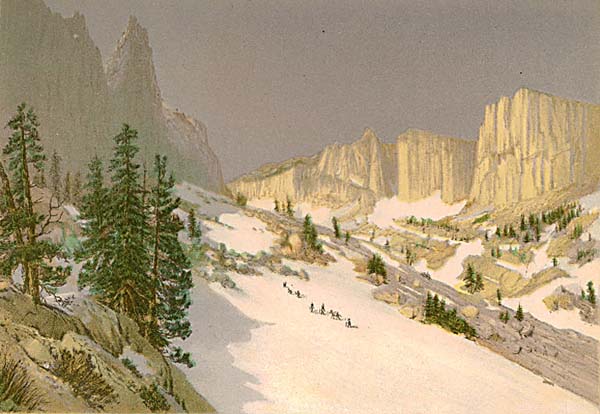 Prev
Next
© Michael D. Schroeder 1 Sep 1999; Updated 20 May 2019 .