Prev
Next
Locale: Utah - Wasatch Mountains
#152. Wahsatch Range - From Salt Lake City - Utah.
4.5 x 8.5, chromolithograph. Title on plate. This chromolithograph is Plate XXII in Clarence King's
Systematic Geology,
published in 1878 as part of the record of the US Government's
Geological Survey of the 40th Parallel, 1867-1872
. The plate is one of ten based on sketches by Munger, who was a guest artist of the survey. See
this site page
for more complete information.
David Ericson of David Ericson Fine Art in Salt Lake City identifies the left-most brown mountain as Mt. Olympus, the rightmost snowcapped mountain as Lone Peak, and the river as the Jordan. Munger spent a lot of time in this area in the fall of 1869.
This plate is very similar in view to painting
#221
. See the discussion of the Wasatch paintings
here
for more details. A smaller version of this image appears as the color plate "Das Wahsatchgebirge in Utah (Nordamerika)" in
Allgemeine Geologie
by Melchior Neumayr (1845 - 1890), published as volumes 1 and 2 of
Erdgeschichte
in Leipzig in 1886.
Tweed 2003 Exhibition
n.43. In the collection of the Great Plains Art Museum, Univ. of Nebraska, Lincoln. Image is a direct scan of the
Systematic Geology
plate.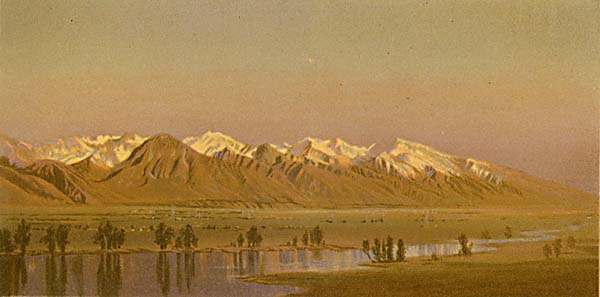 Prev
Next
© Michael D. Schroeder 1 Sep 1999; Updated 20 May 2019.