Prev
Next
Locale: Idaho
#151. Shoshone Falls - Idaho.
6 x 8.5, chromolithograph. Title on plate. This chromolithograph is Plate XVI in Clarence King's
Systematic Geology
, published in 1878 as part of the record of the
United States Geological Exploration of the 40th Parallel
, 1867-1872. The plate is one of ten based on sketches by Munger, who was a guest artist of the survey. See
this site page
for more complete information.
Shoshone Falls is on the Snake River at the present day city of Twin Falls ID. Munger made a trip to paint here on his own in November of 1872.
In 1873 Munger finished a 5 x 8 foot exhibition painting of this scene. See the
Archive
entry for 1873 February for a detailed description of this painting. While its unveiling in San Francisco was covered extensively in the local press, there is no mention of its disposition and it is currently unlocated.
QFD
Pl.33.
Tweed 2003 Exhibition
n.42. In the collection of the Great Plains Art Museum, Univ. of Nebraska, Lincoln. This image is a direct scan of the
Systemtic Geology
plate.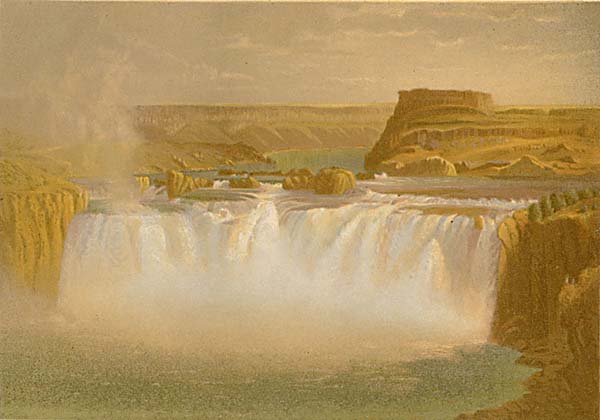 Prev
Next
© Michael D. Schroeder 1 Sep 1999; Updated 20 May 2019.