Prev
Next
Locale: California - Yosemite - Valley Views
#83. Yosemite Valley.
28 x 48, oil on canvas. "Gilbert Munger" lower left. The right half of this painting is almost identical to painting
#73
. The view is looking west along the floor of Yosemite Valley into the setting sun. From a private collection on Long Island NY in 1994 to Rehs Galleries, New York, then via William Karges Fine Art, Los Angeles, to the collection of Nick and Mary Alexander in 1995.
QFD
Pl.33.
Tweed 2003 Exhibition
n.21. See the Rehs' ad in
The Magazine Antiques CXLVI,
No. 4, October 1994, p.438. Image from Karges transparency.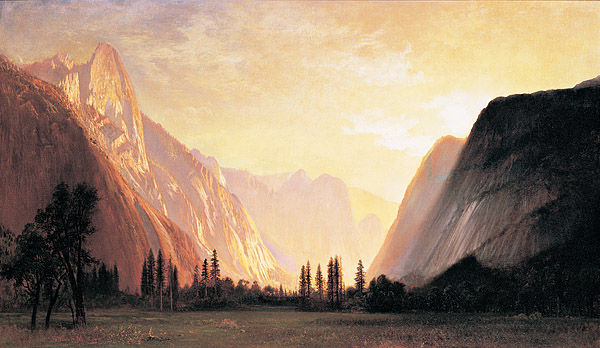 Prev
Next
© Michael D. Schroeder 1 Sep 1999; Updated 13 Jun 2000.