Prev
Next
Locale: Utah - Wasatch Mountains
#74. Great Salt Lake City and the Wasatch Mountains.
9.5 x 19.5, oil on paper. "Gilbert Munger" lower left. The picture shows Salt Lake City with the Wasatch Mountains behind, as viewed across the Great Salt Lake from Antelope Island. (See the discussion of the Wasatch paintings
here
for more details.) It may be the sketch for studio painting
#58
and is similar to
#219
. At Vose Galleries, Boston, in 1984. Gift from Donald Burns in 1984 to the permanent collection of the Utah Museum of Fine Arts (Acc. 1984.096), Salt Lake City.
Tweed 2003 Exhibition
n.33. See
Views of Salt Lake City from Its Foundation to the Present,
Hippodrome Gallery, Salt Lake City, 20 November 1993 - 5 February 1994, Pl.5, p.10. Image from Utah Museum of Fine Arts photo.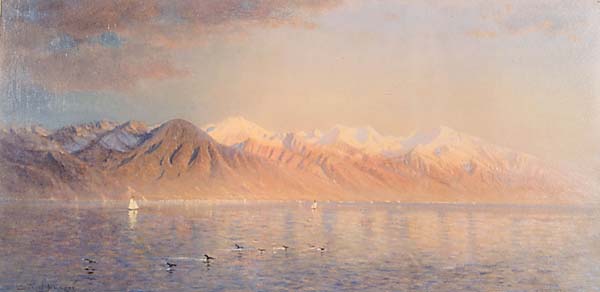 Prev
Next
© Michael D. Schroeder 1 Sep 1999; Updated 5 Jan 2002.