Prev
Next
Locale: Wyoming
#149. Eocene Bluffs - Green River - Wyoming.
6 x 8.5, chromolithograph. Title on plate. This chromolithograph is Plate XIV in Clarence King's
Systematic Geology
, published in 1878 as part of the record of the
United States Geological Exploration of the 40th Parallel
, 1867-1872. The plate is one of ten based on sketches by Gilbert Munger, who was a guest artist of the survey. See
this site page
for more complete information.
The rock tower resembles that in the background of painting
#123
. The location is near Green River City WY where the railroad crosses the Green River. The
San Francisco Daily Evening Bulletin
describes a Munger painting of the same scene. See the
Document Archive
entry for 1872 August 10).
QFD
Pl.41.
Tweed 2003 Exhibition
n.40. Image is a direct scan of the
Systematic Geology
plate.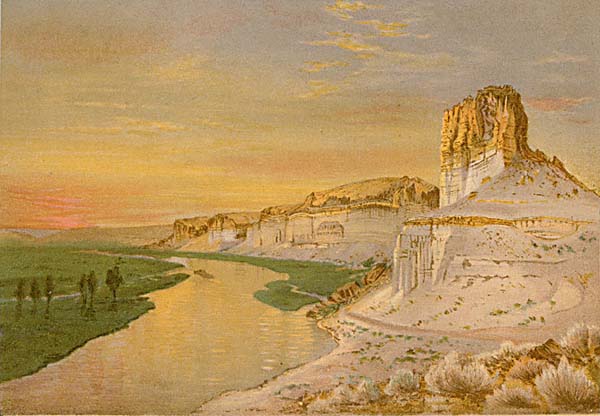 Prev
Next
© Michael D. Schroeder 1 Sep 1999; Updated 19 May 2019.