Prev
Next
Locale: Utah - Wasatch Mountains
#57. Wasatch Range from Salt Lake City.
18 x 36, oil on canvas, relined. "Gilbert Munger" lower left. Very similar to painting
#221
. (See the discussion of the Wasatch paintings
here
for more details.) Sold at the Richard A. Bourne Hyannis MA 22 October 1976 auction as
View of Grand Lake and Long's Peak, Colorado
, lot 95 for $2,000 + premium. From the Anschutz Collection, Denver CO, in 1998 to the Dan & Sue Berman Collection, Salt Lake City UT.
IAP
87440011. See
The Rocky Mountains: a Vision for Artists in the 19th Century
by Trenton and Hassrick, Univ. of Oklahoma Press, 1983, Pl.21, p.188. In
A Personal View of the American West: Canvases from the Collection of Dan and Susan Berman
, Utah Museum of Fine Arts, Univ. of Utah, Salt Lake City. 26 March - 8 August 1999. Image from a plate in
The Rocky Mountains
.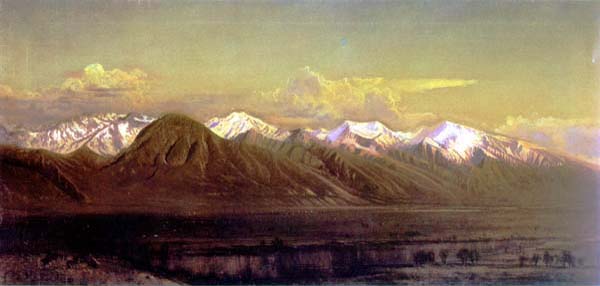 Prev
Next
© Michael D. Schroeder 1 Sep 1999.