Prev
Next
Locale: Utah - Wasatch Mountains
#196. After the Storm, Utah.
20 x 28, oil on paper on canvas on a board. "Gilbert Munger" lower left. This painting shows the Wasatch Mountains from southeast of Salt Lake City. The water in the foreground is the Jordan River, flowing north into the Great Salt Lake. (See the discussion of the Wasatch paintings
here
for more details.) There is a label for the framer "John Nighland, Montclair NJ, on the back of the estate frame. A different frame has been on the painting since 2000. From the estate of Chester Baylis of Locust (Rumson) NJ, in 2000 to the New Jersey collector Ed Pomphrey, to the Texas collectors John and Terri Havens in 2019.
QFD
Pl.12. (The painting is also the dust jacket image for that book.).
Tweed 2003 Exhibition
n.30. Image from Ed Pomphrey's transparency.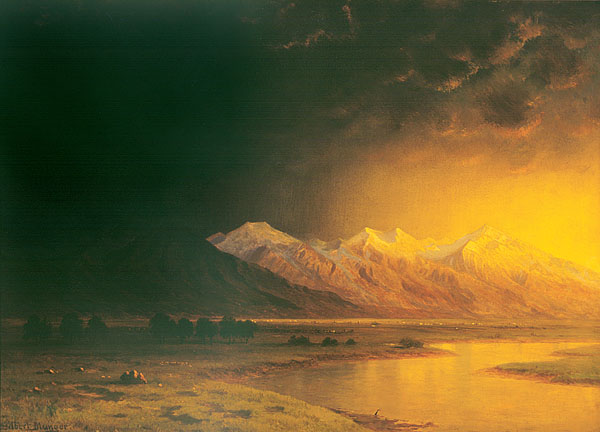 Prev
Next
© Michael D. Schroeder 28 Feb 2001; Updated 4 June 2019.