Prev
Next
Locale: France
#195. Near Bougival.
12 x 18, oil on panel. "Gilbert Munger" lower left. Very similar view to
#318
. A collection in Surrey sold it as a pair with
#194
at the Hamptons International, Surrey, auction of 29 November 2000, for £7,000 to dealer from Scotland. The pair sold again for $7,000 plus 19.5% at Christie's New York sale of 17 July 2002, lot 54, to a collector in the US. The title appears on the back of the painting along with a label from Williams & Son, London, bearing a stock number. According to John R. Williams, the son, in an email from 2002:
My father purchased them at Sotheby's, lot 158, on 27th October 1948 for £35 the pair, entitled Near Bourgival. They came from the collection of Capt. E. H. Waring, The Knowle House, Corfe Bullen, Dorset, England. We sold them on 22nd January 1949 to V. R. Mardon whose address was c/o The Lansdown Club, Berkeley Square, London. He could possibly have been an American staying there.
QFD
Pl.56. Image from author's transparency.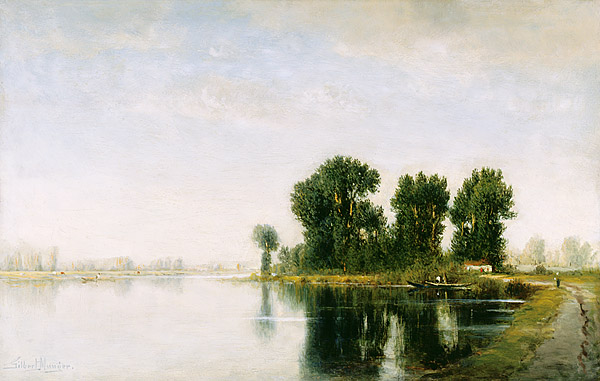 Prev
Next
© Michael D. Schroeder 17 Feb 2001; Updated 21 Jul 2002.