Prev
Next
Locale: France
#318. Near Bougival.
12.5 x 21, oil on wood panel. No signature visible on the front. This painting depicts the same location as
#195
. Stamped on the back is: "E. Mary et fils / rue Chaptal, 26 / Paris." Seven paintings in this catalog have this stamp. On a paper label in Munger's handwriting is: "Pres: Bougival / Gilbert Munger / 35, Boulevard des Capucines / Paris". These labels mean that Munger painted this while living in Paris from 1886 to 1893. It was purchased from an Italian art dealer in the 20th C. by Giuseppe Ottavio Eliseo. Upon his death at Campobasso in Southern Italy in 1996, his entire art collection was donated to Ministry of Culture. This painting ended up at the Museo Pistilli in Campabasso. Information provided Susanne Meurer, Curator of the Museum. The image is from the museum, Luigi Grandillo photogrpher. © Direzione Regionalale Musei Molise.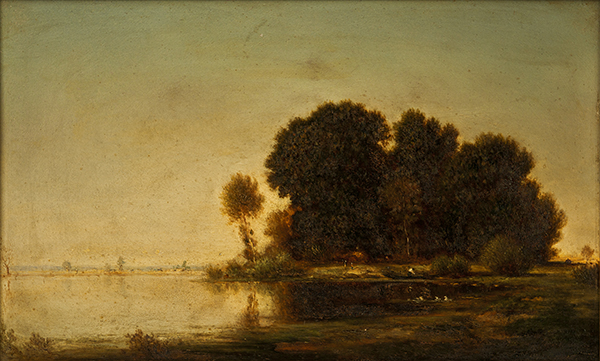 Prev
Next
© Michael D. Schroeder 20 May 2020; Updated 9 Aug 2022.