Prev
Next
Locale: California - Yosemite - Valley Views
#200. El Capitan.
24 x 36, oil on canvas. "Gilbert Munger, 1876" lower left; "El Capitan, Yo Semite Valley, Gilbert Munger" on back. Sold at Bonhams & Butterfields, San Francisco,
California and American Paintings and Sculpture
auction of 10 April 2006, lot 1145, for $150,000 + 15%. Family lore is that the great grandfather of the consigner bought this painting from Gilbert Munger, probably in New York City, specifying that the river be "a little wider." The stretcher has a sticker from Goupil & Co, Fifth Ave and Twenty Second St. This label was being used by M. Knoedler & Co in New York City in the 1870s. The same pale white treatment of El Capitan appears in paintings
#106
and
#185
. Image from author's digital photo.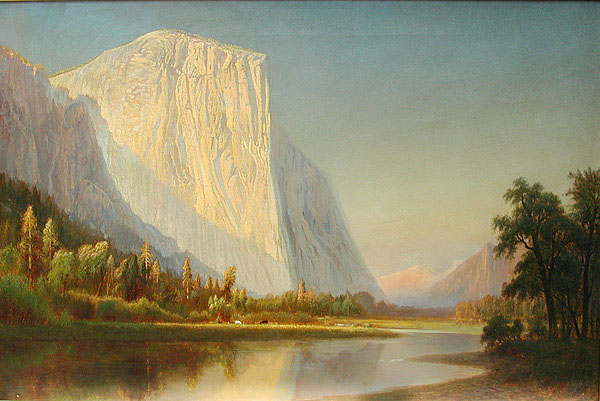 Prev
Next
© Michael D. Schroeder 5 May 2001; Updated 11 Apr 2006.