Prev
Home
Next
Locale: France
#226. Cattle Grazing. 15 x 18, oil on panel. "Gilbert Munger" lower left. Sold for £2,800 + 20% at Christie's London South Kensington sale of 25 Mar 2004, lot 26, to a Utah collector. An American Art Galleries New York auction on 19 Jan 1924 contained the following lot:
GILBERT MUNGER. 35 — THROUGH THE FOREST — 1888. Panel; Height, 14 3/4 inches; width 18 inches. The spectator looks out from the edge of a forest, under the umbrageous arch of two trees which stand at left and right in the foreground, to a great open field where cattle are grazing in brilliant sunshine and a cowherd is watching them. In the distance are more forest lands in the sunshine. Signed at the lower left, Gilbert Munger. Property of a Private Collector. Sold for $60.
And an American Art Association - Anderson Galleries New York auction on 21 Feb 1935 contained this lot:
94. THROUGH THE FOREST Gilbert Munger, British; XIX Century. Sunlit scene of fields with cattle, viewed through the bending boughs, oak trees shadowing the foreground. Signed. Panel; Height, 15 inches; length, 18 inches. Sold for $25.
These are likely both either the same painting as #226 illustrated below or other instances of the same scene. Munger is know to have made multiples of some paintings. Image from email provided by Christie's.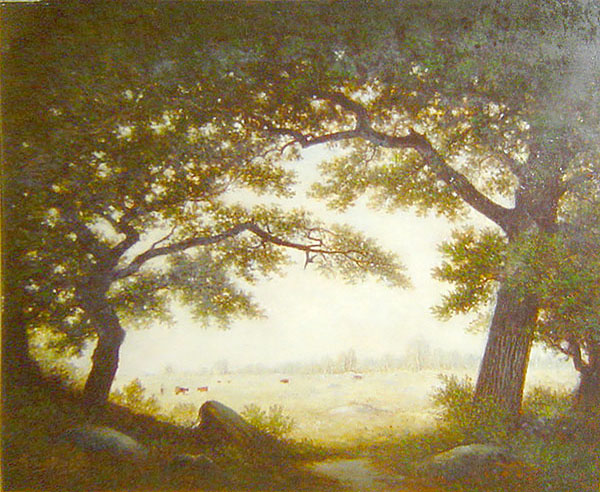 © Michael D. Schroeder 19 Mar 2004 Updated 14 Sep 2021