Prev
Next
Locale: California - Carmel Area
#26. Mission San Carlos Borromeo de Carmelo.
14 x 20, oil on paper on canvas. "Gilbert Munger" lower left. This view is looking east from the Pacific Ocean shore to the back of the mission in Carmel CA. A newspaper article from the
San Francisco Bulletin
on
22 March 1873
describes Munger sketches of this scene. From Clarence King through his family to Veerhoff Galleries, Washington DC. From there in 1974 to the Arthur J. Phelan collection, Chevy Chase MD; then in 2018 via his son Arthur to a northern California collection.
IAP
98780015.
QFD
Pl.24.
Tweed 2003 Exhibition
n.17. Appears in "
Gilbert Munger: On the Trail
" by Cummings, in
Bulletin 1982,
10, Benton Museum of Art, Univ. of Connecticut, Storrs, p.16; and included in
Beyond the Mississippi
, an exhibition of the Washington DC Federal Reserve, 26 January through 1 May 1998. Image from owner's slide.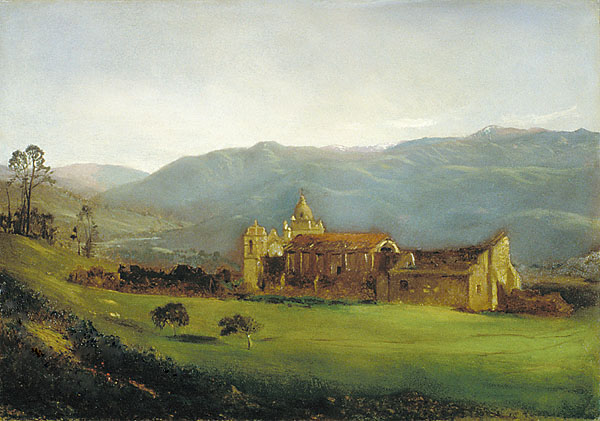 Prev
Next
© Michael D. Schroeder 1 Sep 1999; Updated 7 Feb 2023.