Prev
Home
Next
Locale: USA - Unknown Locales
#286. Merced River in the Yosemite Valley (?). 20 x 28, oil on canvas. "Gilbert Munger 1876" lower left. A frame plaque states, "The Colorado River -- Gilbert Munger." This painting is a near duplicate of the images in paintings #35 and #42. It was given by Frances Goll Mills in 1983 to the Saginaw, MI, Art Museum. The title was changed later by the museum from that on the frame plaque to Merced River in the Yosemite Valley. The reason for the title change is not documented.
The previous "Colorado River" title, the date on the painting, and the ownership by a Mrs. Mills leads to speculation that this is the Munger painting of the same name and date that was in the Lyman A. Mills collection. That painting was included in Exhibition of Paintings from the Collection of Hon. Lyman A. Mills of Middlefield, Conn. at the Morgan Memorial, Hartford CT beginning November 12th, 1923. However, no image or description of that painting is available.
There are several paintings by Albert Bierstadt that very closely resemble these three Munger paintings. They are carry a "Merced River" title. Gorden Hendricks in his book Albert Bierstadt -- Painter of the American West indicates that this title is incorrect. The Munger title is probably incorrect as well, based on the similarity to the Bierstadt paintings and the topography depicted. Munger is known for accurately depicting of landscapes and this painting looks nothing like Yosemite Valley. The Colorado River title is probably wrong as well, based on topography and Munger's know travels. All of these paintings probably depict the King's River in King's Canyon National Park. There are at least two similar looking Bierstadts that carry a "King's River" title. Image provided by the Saginaw Art Museum.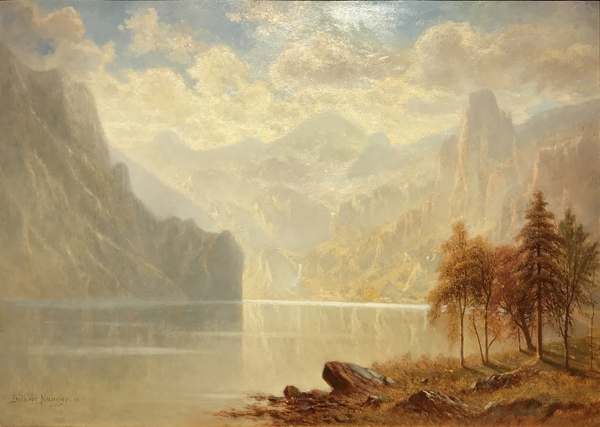 © Michael D. Schroeder 29 Aug 2017 Updated 7 Jan 2020