Prev
Next
Locale: France
#323. Near Bourron.
11 x 17, oil on panel. "Gilbert Munger" lower left. A label on the back shows: "Near Bourron, 1889 Gilbert Munger" in his handwriting. (Note: the auction house has misread the label as saying "Near Boussou.") The Hanover Gallery in London listed a painting with this title at their 1889-90 Winter Exhibition. Offered at Tennants Auctioneers, Leyburn North Yorkshire UK, 13 November 2021
European & Sporting Pictures
auction, lot 1051, est £400-600 + 20%, but did not sell. Then offered by the same auction house at their 23 April 2022
Country House
auction, lot 234, est £200-300 + 20%, and again did not sell.
The village of Bourron was located about 15 km SE from the village of Barbizon in France, an area where Munger painted extensively. Bourron has now merged with the neighboring settlement and is called the "the Bourron-Marlotte commune." Image from Tennants website.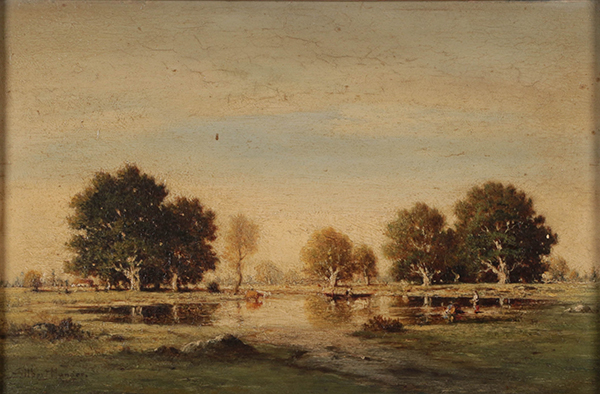 Prev
Next
© Michael D. Schroeder 2 Nov 2021; Updated 5 Sep 2022.