Prev
Next
Locale: Oregon
#41. Mount Hood from Hood River.
11 x 22, oil on canvas, relined. "Gilbert Munger" lower left. The diary of traveling companion Samuel Franklin Emmons has him and Munger at Hood River OR in November of 1870. Munger showed a Mt. Hood painting at the Boston Art Club in April of 1875. The prospect is looking south from where the Hood River flows into the Columbia River. The painting was at Kennedy Galleries, New York City, in 1966; at WIM Fine Arts, Berkeley CA; then in 1988 at Stewart Gallery, Palm Springs CA. Braarud Fine Arts, LaConner WA sold it in 1990 to the dealer Ray Frederick of Auburn WA, who sold it to a California collector in 1993. This painting may be the sketch mentioned in the article from the
New York Evening Post
of 10 January 1872.
IAP
80030059.
QFD
Pl.27.
Tweed 2003 Exhibition
n.13. See
The Kennedy Quarterly,
June 1966, p.78. Image from author's transparency.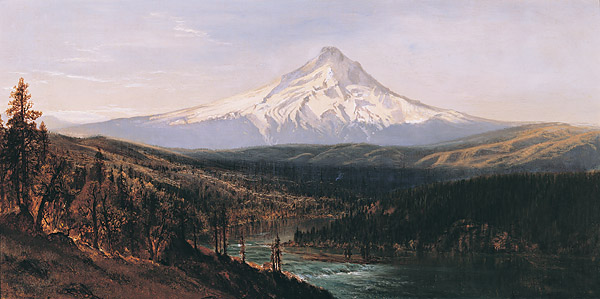 Prev
Next
© Michael D. Schroeder 1 Sep 1999; Updated 13 Jun 2000.