Prev
Next
Locale: California - Mountains
#48. Redwood Forest.
27 x 19.5, oil on cardboard. "Gilbert Munger" lower left. The scene is a grove of Giant Sequoias (not redwoods) in the Sierra Nevada Mountains of California. Painting
#209
is very similar. Sold at Christie's London King Street auction of 13 February 1970, lot 59, for $227 to the London dealer Frank T. Sabin, who transferred it to Kennedy Galleries, New York City, in March 1970. See painting
#40
for the pre-1970 provenance. In the corporate collection of SBC Communications, Saint Louis MO, starting in the late 1970s until it was deaccessioned in 2011 with the help of Martha Parrish and James Reinish Inc, New York City. Sold at Heritage Auction Galleries Dallas TX sale of 3 November 2017, #5330, lot 69063, for $16,000 + $4,000 premium.
IAP
61022193.
QFD
Pl.34.
Tweed 2003 Exhibition
n.20. See
The Kennedy Quarterly,
June 1970, p.9; and
The Kennedy Quarterly,
June 1977, p.170. Image from owner's transparency.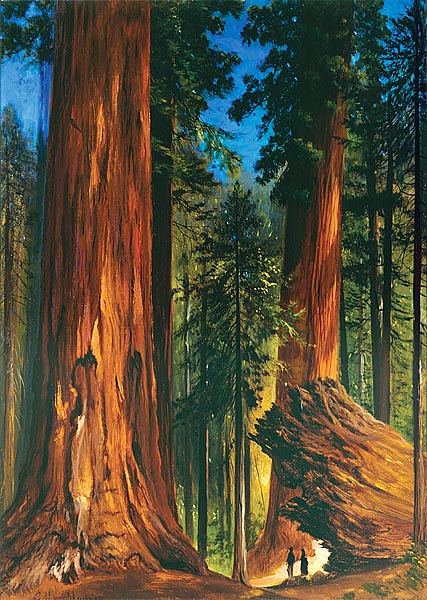 Prev
Next
© Michael D. Schroeder 1 Sep 1999; Updated 2 Apr 2004.