Prev
Next
Locale: West Virginia - Virginia - DC
#52. Berkley Springs.
25 x 30, oil on canvas. "Gilbert Munger" lower left; "Gilbert Munger, Berkley Springs, Aug 1894" reverse in ink apparently in Munger's hand. The only Berkley (correct spelling is "Berkeley") Springs in the US is in West Virginia and Munger was back from Europe by 1894. He could have easily gone to Berkeley Springs by railroad for summer painting, He was familiar with the area from the 1860s (see painting
#20
). A local resident confirms that the scene is typical of the area. An "E. Mary & Fils, 26 Rue Chaptal, Paris" materials supplier mark appears on the canvas. Seven paintings in this catalog have this stamp. A gift from Lester E. and Ann H. Shervy, Munger relatives, in 1984 to the Tweed Museum of Art, Univ. of Minnesota Duluth.
QFD
Pl.64.
Tweed 2003 Exhibition
n.63. Image from author's photo.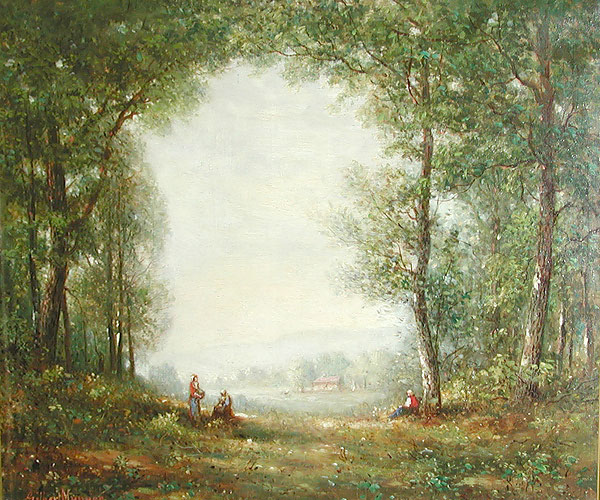 Prev
Next
© Michael D. Schroeder 1 Sep 1999; Updated 22 May 2001.