Prev
Next
Locale: California - Mountains
#77. Glacier Lake, Kings Canyon, California.
20 x 28, oil on canvas. "Gilbert Munger '70 or '76" lower right. On the back of the canvas is written: "Glacier Lake Kings Canyon." Hiking buddies confirm that this painting depicts Lower Glacier Lake in Kings Canyon National Park. The same lake is depicted in painting
#205
. We do not know when Munger visited this region, but the chronology for 1873 and 1875 offer possibilities. At Carlson Gallery, San Francisco, circa 1987. Sold by Montgomery Gallery, San Francisco, in 1994 to the collection of Mr. and Mrs. Thomas Davies, New Canaan CT.
QFD
Pl.42.
Tweed 2003 Exhibition
n.26. Shown at
Bicoastal Artists of the 1870s
, painting 47, 13 June - 16 August 1992, St. Mary's College, Moraga CA. Image from Montgomery Gallery transparency.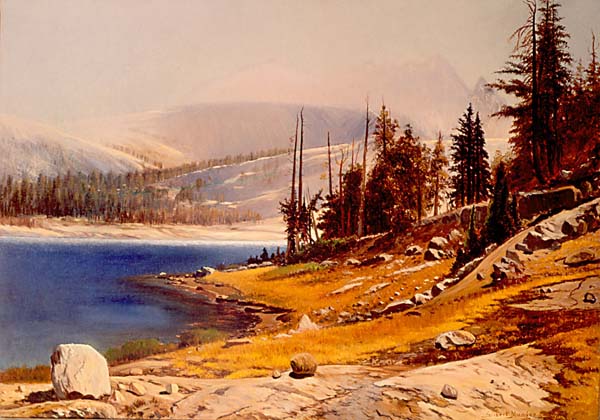 Prev
Next
© Michael D. Schroeder 1 Sep 1999; Updated 1 May 2020.