Prev
Next
Locale: Oregon
#76. Mount Hood, Oregon.
23 x 48, oil on canvas. "Gilbert Munger" lower left. Similar prospect to painting
#41
. This painting may be the large picture mentioned in an article from the
New York Evening Post
of 10 January 1872. Sold for $7,500 + 10% at the Butterfield & Butterfield, San Francisco, auction of October 1981, lot 371, listed as
Mt. McKinley.
Sold by Montgomery Gallery, San Francisco, in September 1992 to dealer Ray Frederick of Auburn WA, who sold it to the Sovereign Collection, Portland OR, who sold it to a private Oregon collection in about 1993. Image from Montgomery Gallery, San Francisco, transparency.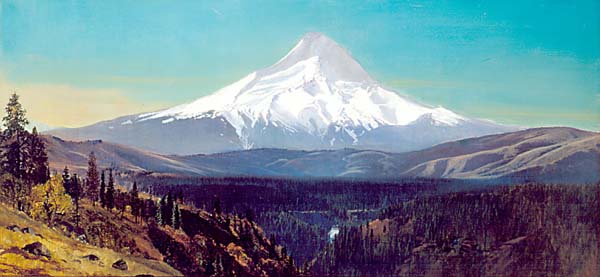 Prev
Next
© Michael D. Schroeder 1 Sep 1999; Updated 28 Apr 2020.