Prev
Next
Locale: Scotland
#81. Mountainous Lake Scene.
14 x 24, oil on canvas. "Gilbert Munger" lower left. Tom Prentice, Secretary of the Scottish Mountaineering Club, identifies the mountains as the Five Sisters of Kintail that lie at the west end of Glen Shiel in western Scotland. The view is looking south over Loch Duich.
Here is Prentice's analysis
. The painting sold for $900 + 10% at the Mystic Fine Arts, CT, auction of 30 June 1994, lot 81, to Robert Orcutt. Gift of the Orcutt family in memory of Robert S. Orcutt to the Tweed Museum of Art, Univ. of Minnesota Duluth, in 1996.
Tweed 2003 Exhibition
n.46. Image from author's transparency.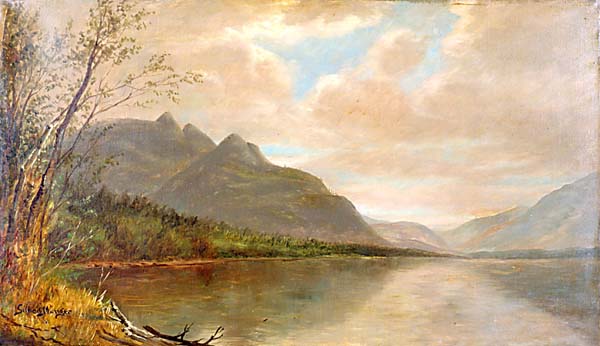 Prev
Next
© Michael D. Schroeder 1 Sep 1999; Updated 2 Feb 2021.