Prev
Next
Locale: Scotland
#241. Cauldron Falls - an Oval Pair.
21 x 18, oil on canvas relined. "Munger" lower right on one painting.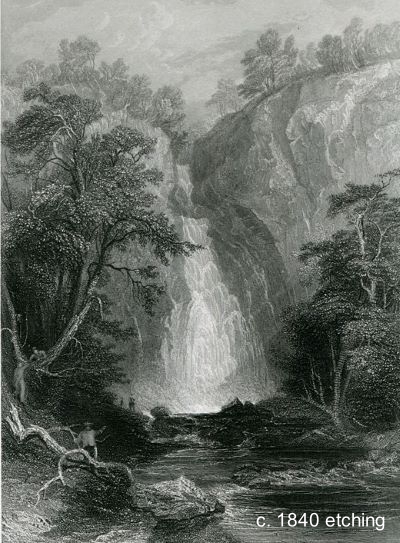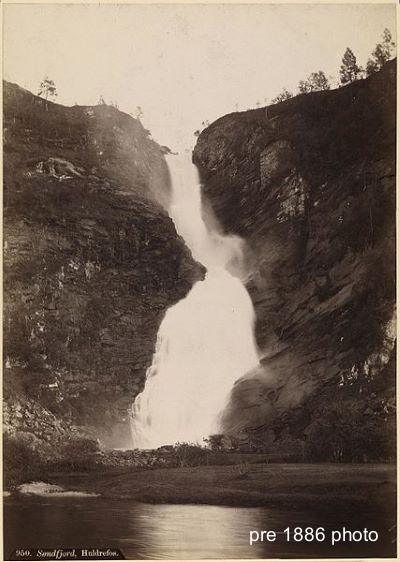 This pair of paintings is on identical oval stretchers. Alfred Harrison of North Point Gallery, Berkeley CA, says that it was common practice to sign only one when a pair was intended by the artist to stay together. The stretcher on one shows indistinctly in pencil: "Caldron (indecipherable word)." For many years searching the web for "Caldron Falls" and querying waterfall aficionados yielded no matches, so we did not know which falls were depicted.
We now known the falls are: Cauldron Linn, River Devon, Perthshire Scotland. Bryan Swan of worldwaterfalldatabase.com resolved the issue in late 2021 by sharing the c. 1840 etching (far right) that clearly matches the left painting below. The pre 1886 photo (near right) also matches. Mr. Swan points out that the falls were much altered by a large rock slide in 1886 and a subsequent power plant, so modern photos are unrecognizable. We know that the right hand painting below is the same falls from a slightly different perspective. Not only does it show the same palette, style, and geology. but it is the one of the pair that has the signature on the front and the pencil inscription on the back, which we can now see says "Caldron Linn." Munger painted in Scotland in the late 1870s.
The paintings appeared in a Virginia estate in 2005 where they were bought by the dealer Donald P. Williams. Later in 2005 he sold them to Bethesda MD collectors. They subsequently have been restored and reframed as shown here. The restorer reported that the oval stretchers were French and that the tiny humans in the paintings were wearing costumes that appear to be 19th C. Scottish! Click on the image below to see a bigger one. Image from owner's email.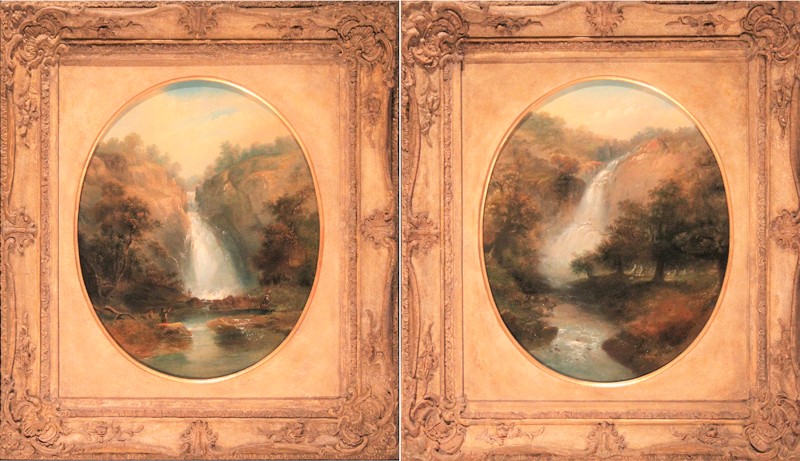 Prev
Next
© Michael D. Schroeder 5 Dec 2004; Updated 10 Dec 2021.