Prev
Home
Next
Locale: Unknown Locales
#241. Waterfalls - an Oval Pair. 21 x 18, oil on canvas relined. "Munger" lower right on one painting, somewhat indistinct.

This pair of paintings is on identical oval stretchers. One of the pair is signed indistinctly (see right). Alfred Harrison of North Point Gallery, Berkeley CA, points out that it was common practice to sign only one when a pair was intended by the artist to stay together.

The stretcher on one shows what is probably the title in pencil (see right), although this to is hard to decipher. It may say "Cauldron Falls", or "Caldron Falls."

The current conjecture is that these works show either one waterfall from two slightly different vantage points or two similar falls. Any information that readers can provide as to the actual locale would be appreciated. The left picture below has several people and a shepherd with sheep. (see right) The right hand picture has three deer at the left. Click on the image below to see a bigger one.
The paintings appeared in a Virginia estate in 2005 where they were discovered and bought by the dealer Donald. P. Williams. Later in 2005 he sold them to Bethesda MD collectors. They subsequently have been restored and reframed as shown here. The restorer reported that the strainers were French and that the tiny humans in the paintings were wearing costumer that appear to be 19th C. European or Scottish. Image from owner's email.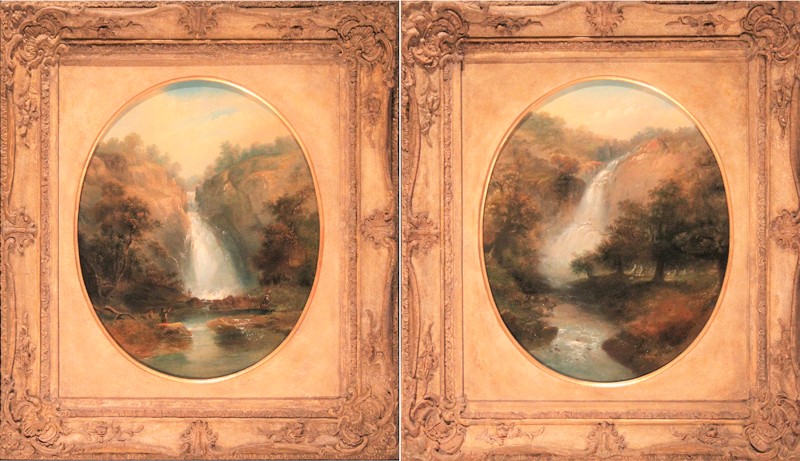 © Michael D. Schroeder 5 Dec 2004 Updated 10 Jun 2019