Prev
Next
Locale: England
#104. River Scene with Castle.
18 x 26, oil on canvas. "Gilbert Munger" lower left. Matches the watercolor sketch
#11
. The painting depicts Windsor Castle. An "E. Mary & Fils ... Paris" materials supplier mark appears on the canvas and stretcher. Seven paintings in this catalog have this stamp. A "Verhoff Gallery, Washington DC" sticker is on the frame back. From Munger's estate to his friend James Cresap Sprigg. Sold by the family at O'Neills Auction Co., Forest Hill MD, estate sale on 29 May 1999 for $9,000 + 10%.
QFD
Pl.46.
Tweed 2003 Exhibition
n.47. Image from author's photo.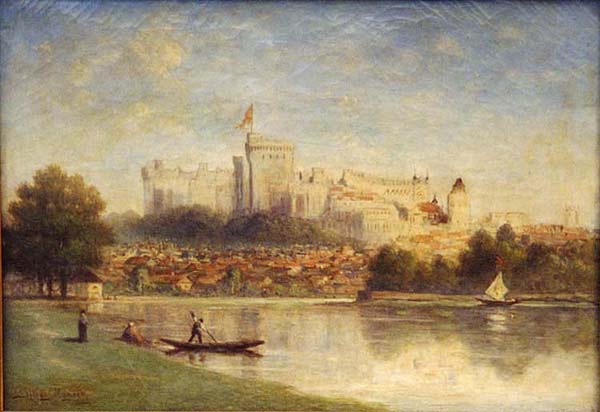 Prev
Next
© Michael D. Schroeder 1 Sep 1999; Updated 30 Apr 2020.