Prev
Next
Locale: California - Mountains
#248. Reflections (Lake Tahoe).
12 x 20, oil on canvas. "Gilbert Munger" lower right. This painting shows Mt. Rose and Slide Mt. at the right end of the range straddling the California / Nevada border at the north end of Lake Tahoe. The artist is likely working from Sandy Point south of there on the eastern shore of the lake. Munger
Lake Tahoe
paintings started being mentioned in the San Francisco press in 1872. The frame shows a maker's label from Beers Brothers, with the New York City address used between 1887 and 1899.
A handwritten label says: "Munger Reflections - Lent LA Mills." This matches with a
12 November 1923 article
in the
Hartford Courant
describing an exhibition of the paintings of the Honorable Lyman A. Mills of Middlefield CT presented at the Hartford Athenaeum, in which a Munger painting titled
Reflections
is mentioned.
A
1950 scrapbook
kept by Munger's niece Myra Dowd Monroe [1837-1966] that was given to the Madison CT Historical Society contains a black and white photo of the painting with the hand written notation:
Artist Sir Gilbert Munger — Really a beautiful picture ... — belonged to artist J. Francis Cropsey.
The painting was identified in 2006 in Mrs. Claudette Perrin's home near St. Etienne France by her son Robert Beal. Mrs. Perrin's husband spent 40 years in the US near Brookhaven, NY, starting about 1940, and the family thinks the painting came from that time. It is now in a US collection. Image from owner's email.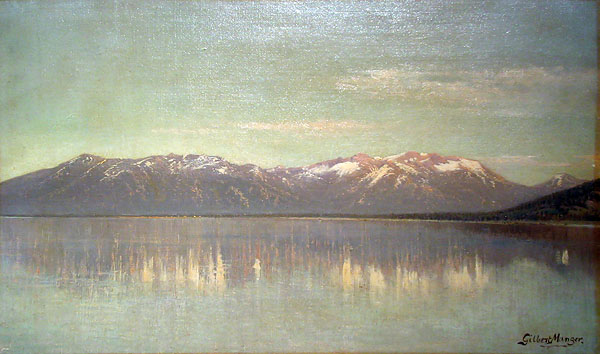 Prev
Next
© Michael D. Schroeder 5 Dec 2006; Updated 5 Dec 2006.