Prev
Next
Locale: California - Mountains
#89. Mount Shasta with Indians.
15 x 30, oil on canvas, relined. "Gilbert Munger" lower left; "Mt. Shasta Cal, 14440 ft els, Gil. Munger painter" reverse. Mt. Shasta is shown from the west with Indians on horseback and a teepee village. From a Sacramento CA area collector about 1999 to the Grupp Collection in Mountain View CA. Sold at Bonhams, Los Angeles,
California & Western Paintings
auction on 28 April 2015 as lot 20 for $8,000 plus 25% buyer's premium. Image from author's photo.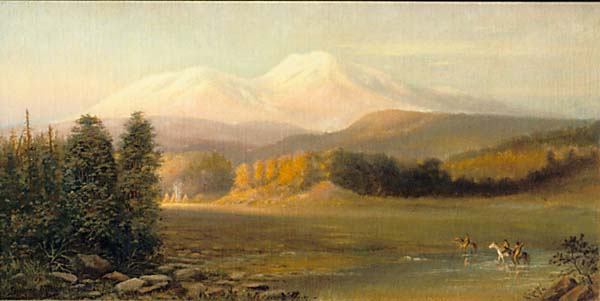 Prev
Next
© Michael D. Schroeder 1 Sep 1999; Updated 29 Apr 2020.