Prev
Next
Locale: USA - Unknown Locales
#255. The Old House.
11 x 8, oil on canvas. Signed. There are three almost identical versions of this painting; see
#224
and
#324
for the other two. Because #324 is dated 1871 we can be certain this is a painting depicts a US scene. The log building is a water mill. It is unknown where in the US the mill is located. But perhaps the article in the
San Francisco Examiner
on
21 March 1870
that lists a painting
The Old Mill (Maryland)
by either Munger or John Ross Key is a good hint.
This version was offered in an estate disposal auction as EBay item # 2602033408955 on 24 January 2008, buy-it-now price $1,100; no bids. The lot included a copy of the book 1904 Munger
Memoir
. The picture was listed as located in Poplar WI, which is 25 miles from Duluth MN. Roger Munger, Gilbert's brother, was a town father and Gilbert visited the area several times. Image from EBay website.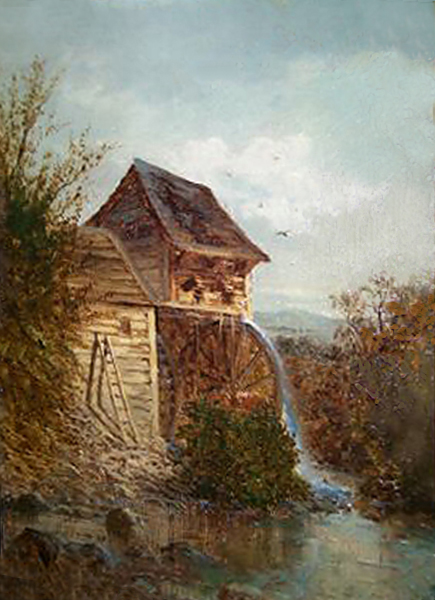 Prev
Next
© Michael D. Schroeder 10 Mar 2008; Updated 13 Dec 2021.