Prev
Next
Locale: France
#258. Pastoral Landscape in Moonlight.
15 x 22, oil on cradled panel. "Gilbert Munger" lower left. A rare moonlit scene. The landscape is certainly in France, although likely painted after he returned from France to the US.. A label on the back shows: ""From Henry D. C. Rohlfs, Jr. -- Galleries of Art -- 942-944 Fulton St Brooklyn, N.Y. -- Near Cambridge Place Tel PROSPECT 1075 L." This is very likely to be the same painting as
#186
. The catalog of the 1893 Chicago World's Fair show a submission of a painting by Gilbert Munger titled
Rising Moon
, number 1075. I can imagine that it is very much like that submission. Sold at the Heritage Auction Galleries, Dallas TX, sale 5004 of 8 - 9 May 2008 as lot 33156, for $2,499 + 19.5%; also EBay item 170212902493. Image from auction website.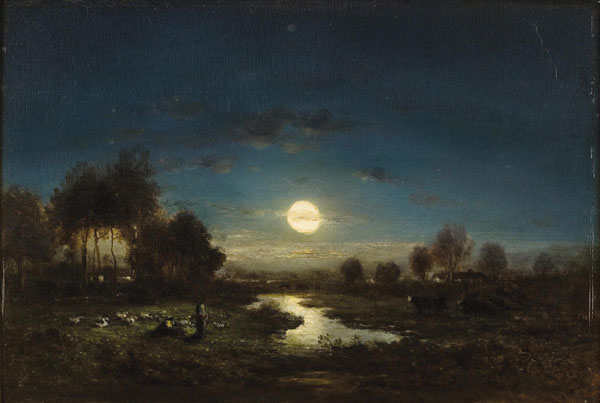 Prev
Next
© Michael D. Schroeder 3 May 2008.